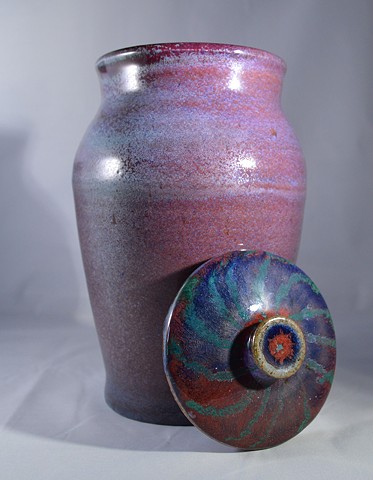 Nathaneal Huffman has an Associate in Studio Arts degree from Del Mar College, Corpus Christi, and a Bachelor of Fine Arts degree from Texas A&M University - Corpus Christi, with a focus in Ceramics. He has been the student of Louis Katz, Gregory Tegarden, and Kenneth Rosier.
He produces a wide variety of functional and decorative pieces from mugs to sectional vases. He also hand carves some of his pottery, with a focus on dragons, mythological creatures, and marine life. The clay bodies he has worked with are high-fire stoneware and porcelain.
He now works in a fully functional home studio in Portland,Texas. He uses a gas kiln for bisque firing and glaze firing to cone 9. He continues to test and develop numerous glazes and forms in this setting.
He has widely exhibited his pottery throughout Texas since 2013 and has sold over 3,000 pieces of pottery.
Every piece is hand thrown by the artist, and all glazes are handmade. No lead or cadmium are used in the glazes. His pottery is designed to be used as functional or decorative ware.
For the latest news about his pottery, please go to his Facebook page: Nathaneal Huffman Pottery. Also follow on Instagram: @nathanealhuffmanpottery.