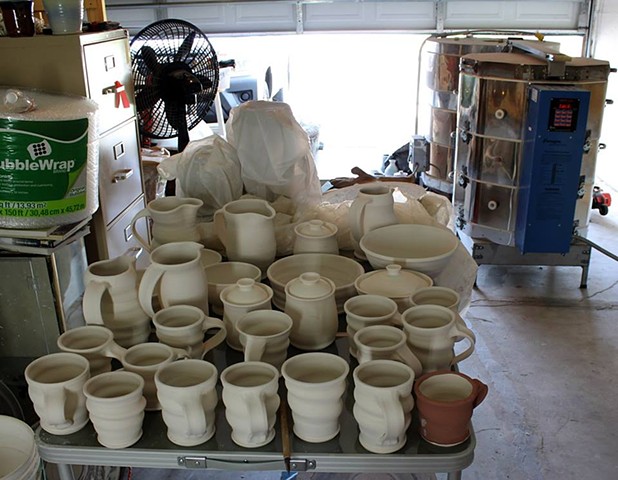 Glaze Session. The electric kiln is seen in the background, which is now mainly used for bisque firing only due to unresolved technical issues with the kiln no longer being able to reach full glaze firing temperatures.
Ceramics
2014
Once I have enough to fire a glaze load, I'll sort through the sizes to ensure I'll have as much of the kiln filled as I can. Next the glaze containers are brought out with the liner glazes first, and stirred to consistency. I have gotten into the habit of a two day glazing session where liners are poured in first and allow the water that was absorbed into the pots to evaporate.
Glazes are suspended clay, silica, fluxes, and colorants in water to a desired thickness depending on its use. Some can settle on the bottom and prove to be difficult to reconstitute, therefore I usually add a little Veegum or a fine bentonite to prevent this.
After a few hours from the time the liners are applied, I then spend hours choosing glaze combos. Some sell more than others, but I also experiment in how different glazes interact with each other. I pour, dip, airbrush, and brush on accents or decorative glazes such as the Icing combo which is a Tenmoku iron glaze with Purple Haze drips. Each pot receives my delicate care to ensure each firing has little to no glaze overflow onto the shelves which can damage a ware.